IGNOU MA English Solved Assignments Free Download – MEG 2017/18-19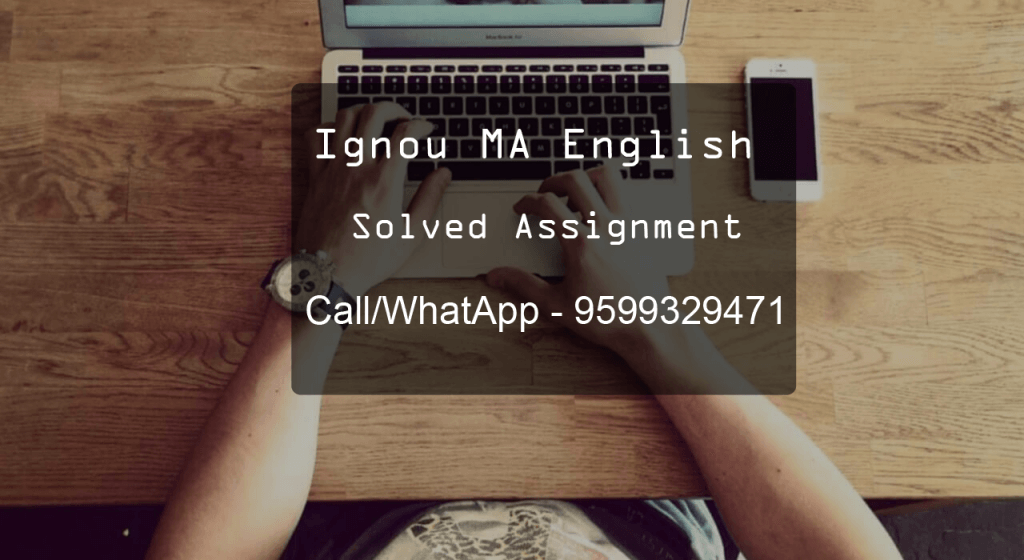 IGNOU MA English Solved Assignments Free Download (MEG)
All The Students of IGNOU who are pursuing MA English course have to submit Ignou MA English solved assignments of their respective years to complete their courses and the student can download Tutor Marked assignment in English medium from the official website for the session 2017-18.
The Breif of IGNOU MA English Solved Assignments has been mentioned below:
All the guidelines is already mentioned in the Ignou solved assignment that what question they have to write and how much words they can use, For 20 marks questions, student must write answer's within the mentioned range of 500 words each. For 10 markings question, the word limit should be within 250 words each.
IGNOU MA English (MEG) First Year Solved Assignment 2017-18
The students have to get ready the solved assignment for the Core Programs in the first year. The subject code including the name of the courses for which solved assignments need to be submitted by students in the first first year is mentioned below:
MEG-1: British Poetry
MEG-2: British Drama
MEG-3: British Novel
MEG-4: Aspects of Language
The maximum number for every single assignment is 100. The university provide 30%  weightage to assignments which means the 30% of this assignment marks obtained by the learners will be added in the final total marks of the course. That is the reason the total number for any course will be of 70% theory and 30% assignment.
Learners can certainly download Ignou MA English Assignment question papers free of cost from the university official website. They do not have to pay any charges or payment for that. Ignou one of the biggest university in india also send hard copy of MEG assignments at the students address which he had given at the time of admission. If In case, if any student doesn't receive it, he/she may download it here…
IGNOU MEG Second Year Solved Assignments 2017-18-19
In the last year of MA English of Ignou programme, the learners need to deposit 4 courses of solved assignment in which MEG-05 is compulsory. Students need to select any three courses out of 9 from the remaining courses. The code and name of the courses has recently been mentioned below:
MEG-05: Literary Criticism and Theory
MEG-06: American Literature
MEG-07: Indian English Literature
MEG-08: New Literatures in English
MEG-09: Australian Literature
MEG-10: English Studies in India
MEG-11: American Novel
MEG-12: A Survey Course in 20th Century Canadian Literature
MEG-14: Contemporary Indian Literature in English Translation
Guidelines to write IGNOU MA English Solved Assignments
Please read the assignments thoroughly and carefully
Students have to answer the questions as per the word limit.
Write the answers in your own handwriting.
Try to write answers in your own words. Don't just copy & paste the answers from the study material.
How to Get IGNOU MA English first & second Year Solved Assignments?
It is always good and recommended to all the students to solve assignments by themselves, Because it help learner's to go through complete study material which help them in exam preparation.
Feel free to Dial/Whatsapp us if someone needs help and not able to solve the assignment then he may request for Ignou MA English solved assignments 2017-18 for all subjects code which we will provide you in the form of PDF at a very nominal price and if you are looking for Ignou Bcom Solved assignment then check our b.com assignment blog.
Call/ Whatsapp – 9599329471
Email – Synopsisignou@gmail.com
ignou assignment ignou ma english assignment ignou ma english solved assignment ignou ma english solved assignment 2017-18 ignou ma english solved assignment free download ignou meg assignment ignou meg solved assignment ignou meg solved assignment 2017-18 ignou meg solved assignments free download ignou solved assignment