To complete the MBA Degree from Ignou it is obligatory to complete the Ignou MBA project. IGNOU being a distance education it is great challenge to complete these projects in well-timed manner. As almost all of the MBA Students are working professional thus they lack time and sometimes needs guidance in completing these dissertations.
Composing synopsis and project of MBA Programs is tough and that is the reason we offer Ignou project help.
How to Write IGNOU MBA Project More Efficiently
The students may take Ignou MBA project after enrolling for MS-01 MS -11 courses. The project can maintain any of the specialization for example: Sales and Marketing, Human Resource Management, Operations, Financing, Services Marketing, Tourism and Hospitality. We at IGNOU Synopsis helps in making high quality projects, marketing management, organizational behavior and so on.
Begin early
Always begin writing the project in the beginning of the semester as composing MBA project is a time taking process. According to the guidelines of Ignou, a supervisor can take only 5 student under his belt at one time so, the first step is to find the supervisor. Once you finalized the supervisor start building a strategy early, which means you have sufficient time to finish whatever you have to do.
Read the guidelines
These guideline will help you in understanding "how o write Ignou MBA project" and what you have to keep in mind while writing the project work. Make a time table and remove all the disturbance and actually read what it is that you must do.
For Example, if you have taken a topic "marketing of adventure and nature tourism". In this topic perhaps you can emphasize on adventure and nature tourism of all over India or you can concentrate on the single place where you will conduct all the city to write down the project.
Start breaking down the topic in points which will help you in writing hassle free project.
Discussion
At this stage you have to discuss each and every bit of idea, write it down and sum it up. This will help you in getting your creative juices flowing.
This discussion part will cover all the things you had not thought of and makes easier to write the project on the basis of that. This way you will be able to fully convince your supervisor about the project.
Suppose you have chosen a marketing of adventure and nature tourism topic. Open your word document and start writing about the adventure and nature tourism, let the ideas flow, take the help from internet.
For example just start with the introduction part and write whatever comes in your mind, try different ideas. Once you will finish writing start connecting the ideas or sentence you have written. This type of free writing will help you in writing intriguing project.
Format of MBA Synopsis
You have to follow the same technique in every section of the MBA synopsis of the project. We are mentioning here what you have to cover in the synopsis of the MBA project.
Introduction
Need for the study
Significance of the study
Scope for the study
Statement of the Problem
Objectives of the Study
Hypotheses
Research Methodology
a – Research Method
b- Population
c – sample
d – Tools
Limitations of the Study
References
IGNOU MBA Dissertation Sample Free Download
Any Administration student who lacks the time and resources to make their own project report. We provide MBA dissertation help as well as resources to write MBA project report or if you have question in mind like "how to free download the mba synopsis sample" you can download from below.
All of us provides them guidance as well we write good quality project report and provide MBA project services in India.
We provides the high quality Ignou MBA project help for IIM, Amity and other universities as well as IGNOU in particular.
The Objective of the MBA Project MS 100: The purpose of the project is to help college student in developing multi-disciplinary capabilities, principles, tools and techniques to solve the organizational problems.
Ignou MBA Project Synopsis Sample
Ignou MBA Marketing Project Sample (4848 downloads)
Ignou MBA Operation Project Sample (4764 downloads)
Ignou MBA HR Project Sample (5934 downloads)
Ignou MBA Finance Project Sample (10231 downloads)
Types of IGNOU MBA Project Report:
1) Circumstance Study (Comprehensive): Covering Solitary organizational problems, Multifunctional area problem, Formulation, Analysis and recommendation
2) Inter organizational Research: Aimed at Inter organizational comparisons, Validation of Theory and Management Practices
Project Proposal (SYNOPSIS): The Synopsis should plainly state the objectives, Analysis Methodology of the Recommended Project undertaken. It should have full details of rationale, sampling, Instruments, to be used.
IGNOU MBA Dissertation
The size duration of the Ignou MBA dissertation is somewhere around 70 to 80 Pages double spaced entered pages and must not exceeding by 18, 000 words.
Each Project Report properly describe the research strategy adopted and the course of the future analysis.
The copy of the Project Proposal proforma and Synopsis.
Certificate of originality duly signed by the student and teacher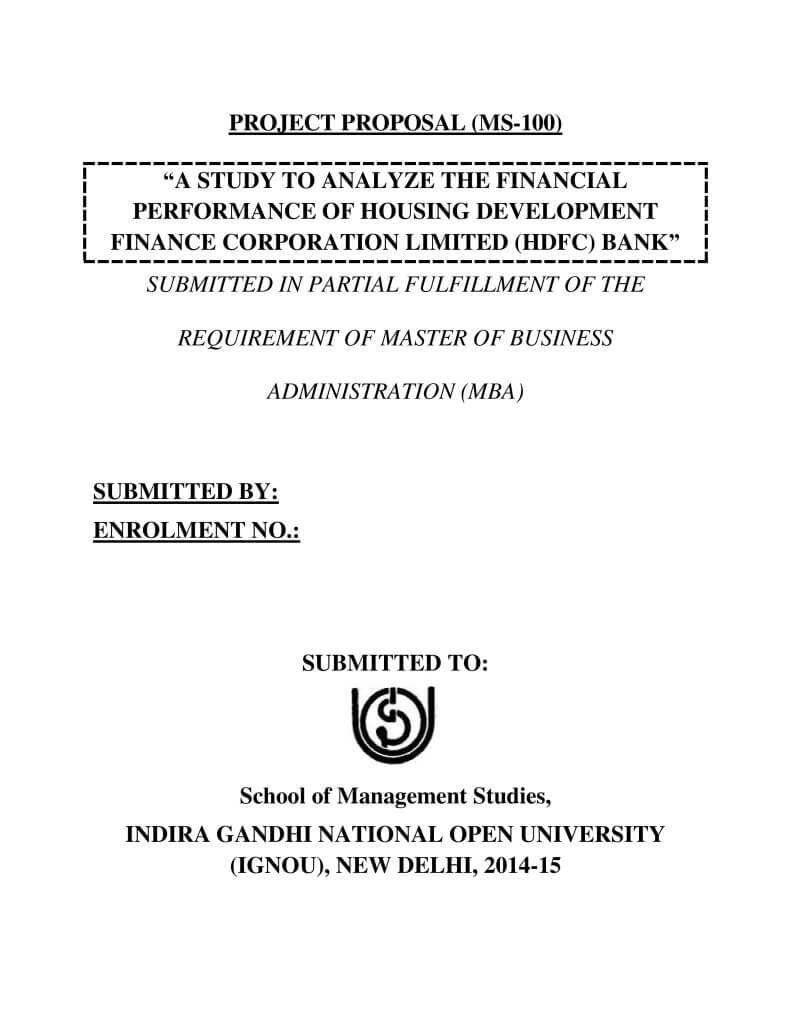 Importance of Ignou MBA Dissertation Help
Composing an Ignou MBA dissertation is different from other universities' projects. It requires a thorough strategy and determination to finish the work within a specific time frame. The purpose and the objectives must be clear to you if you want to compose a good project work. Here are some of the characteristics that student must be aware of prior to writing the MBA dissertation.
Dissertation topics: There are four specializations in Ignou MBA project and each is different from the others. You should pick an easy topic of passion, and which is a subject you know and appropriate to your specialization. You can research the topic and choose the subject or mix two or three subjects and come up with a theme for the MBA project.
Dissertation Proposal: Composing a high-quality MBA project proposal requires a synopsis first also known as outline to your project work. Before you begin writing your mba synopsis, you must decide on the topic and do proper investigation of the topic. A thoroughly researched synopsis should give a concise outline the project work.
Examine the MBA dissertation examples: In order to create a high-quality paper, it is always helpful to search at some examples of good work so that you have an idea of how you can compose an MBA dissertation. What is the format you must adhere to? What style of writing should be employed in your dissertation?
References for dissertations: To finish an MBA dissertation, you need to consult so numerous books, websites, and journals to locate the correct details. You must have knowledge of the citations and references to the dissertation.
The Reason Why One Needs IGNOU MBA Project Help
If you want to create a good quality Ignou MBA project then you must possess numerous skills and knowledge. if you don't have then you have to face many issues while writing your project work.
Knowledge of the subject is a must if you do not have the right knowledge about the subject, you will not be able to compose project.
It's a long-winded job and you need at least daily 2 hours' time to complete your project work which is impossible, and therefore you should look for MBA project help for your project work.
Therefore, in order to create a high-quality project, the student must seek assistance from professionals who write MBA project.
Decide How to Represent the IGNOU MBA Project
Once you will finish writing the synopsis of the project in sections, sum it up and rearrange according to the point given above which is according to Ignou guidelines. Cross check each and every section of your Ignou MBA project you have written and show it to your supervisor.
Approval of Supervisor
Supervisor approval is necessary in Ignou. Without supervisor you cannot send the project to head office. If your supervisor is asking for changes do it. Once your supervisor will approve your project, take the signature and submit it in Ignou University and wait for the approval.
Submission of MBA Project Report of IGNOU
One Typed copy of the Ignou MBA project report is usually to be submitted to the Registrar, IGNOU, MAIDAN GARHI, New Delhi-110068.
Once the students submits the project report, A PR number is allotted which is communicated to the student. The student can communicate this number while contacting the SR&E department.
If you are a batch of June July session then the last date would be 31st may and If you are from January Batch then the last date would be 30th November to submit the dissertation.
Dissertation Submission Dates
July Batch
31st May
January Batch
30th November
Frequently Asked Questions
What is the last date to submit the Synopsis and project report?

Ans – Synopsis Last date For July batch is March 30th
Report Last date For July batch is May 30th
Synopsis Last date For Dec/ Jan batch is September 30th
Report Last date For Dec/ Jan is November 30th
How to Download the Appendix Where to take signature of supervisor?

Please click on the link to download it.  MS100 project Handbook and Guidelines
Where and how to Send the Synopsis and Report of MAPC Project

You have to hard bind and speed post to the below address
The Coordinator (Projects),School of Management Studies,
IGNOU, Maidan Garhi, New Delhi-110 068
How do I concentrate on my projects?
Make a time table as writing a project is a lengthy process. It cannot be done in one day
What is the system for writing a project?
Follow the Ignou guidelines handbook for ms100 or download from above or you can contact your supervisor for help in composing.
How can I make the best front page for a project?
Download our project sample and check the front page. This will give you idea how to make it.
Read Our Blogs on
How to get MBA Project 
To get IGNOU MBA project help, just email your Subject Codes at synopsisignou@gmail.com.
Please contact us to get more details on our services.
CONTACT PERSON: Ravi Saini
Contact: +91- 9599-329-471 
Email: Synopsisignou@gmail.com